Tuesday, 15 January 2013
Project 365/133 Wants of the Week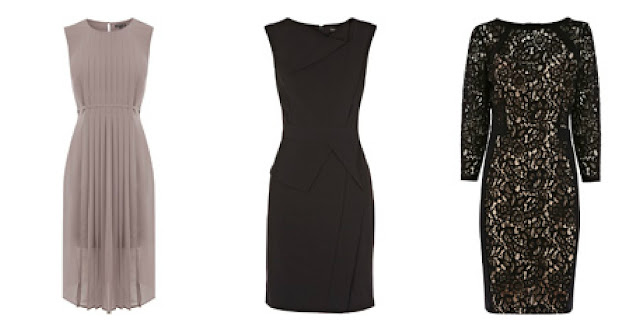 This weeks Wants of the Week are all dresses. Now the majority of my blog readers already know that I'm a big fan of dresses, especially to wear for a night out.
I've chosen Warehouse for my chosen site this week. I already own a lot of Warehouse Clothing, especially their dresses so I figured that this would be a good place to start.
The items I have chosen as pictured above are:
1) Pleated Midi Dress – £60.00.
2) Origami Front Dress – £65.00
3) Lace Panelled Bodycon Dress – £65.00
There are so many styles of dresses around nowadays; mini, maxi, midi and lots of different prints and colours that I'm sure there's something out there to suit everyones body shape and own personal style.
If you would like to contact me please click on the pink Icons above for my e-mail address, Instagram and Twitter accounts.

If you're a company who would like me to review your product or have any advertising queries, you can contact me by clicking on the pink e-mail Icon above or at:

[email protected]
If you want to use any of my photos for whatever reason then please e-mail me for permission first, @ Copyright 2011 Sadie.
Hello everyone, my name is Sadie, welcome to my Blog, enjoy xx

Popular Posts

Project 365/133 Wants of the Week


Project 365/124 Zara Black Leather Zip Bowling Bag

Project 365/25 Benefit Brows a-go-go Palette

Maxfactor False Lash Effect Fusion Mascara

Project 365/49 Studded Bottom Bag

Blog Archive
► 2015 (4)
► 2014 (8)
► 2013 (15)
► 2012 (37)
► 2011 (90)
► 2010 (22)
► 2009 (15)