Thursday, 11 December 2014
Miller and Carter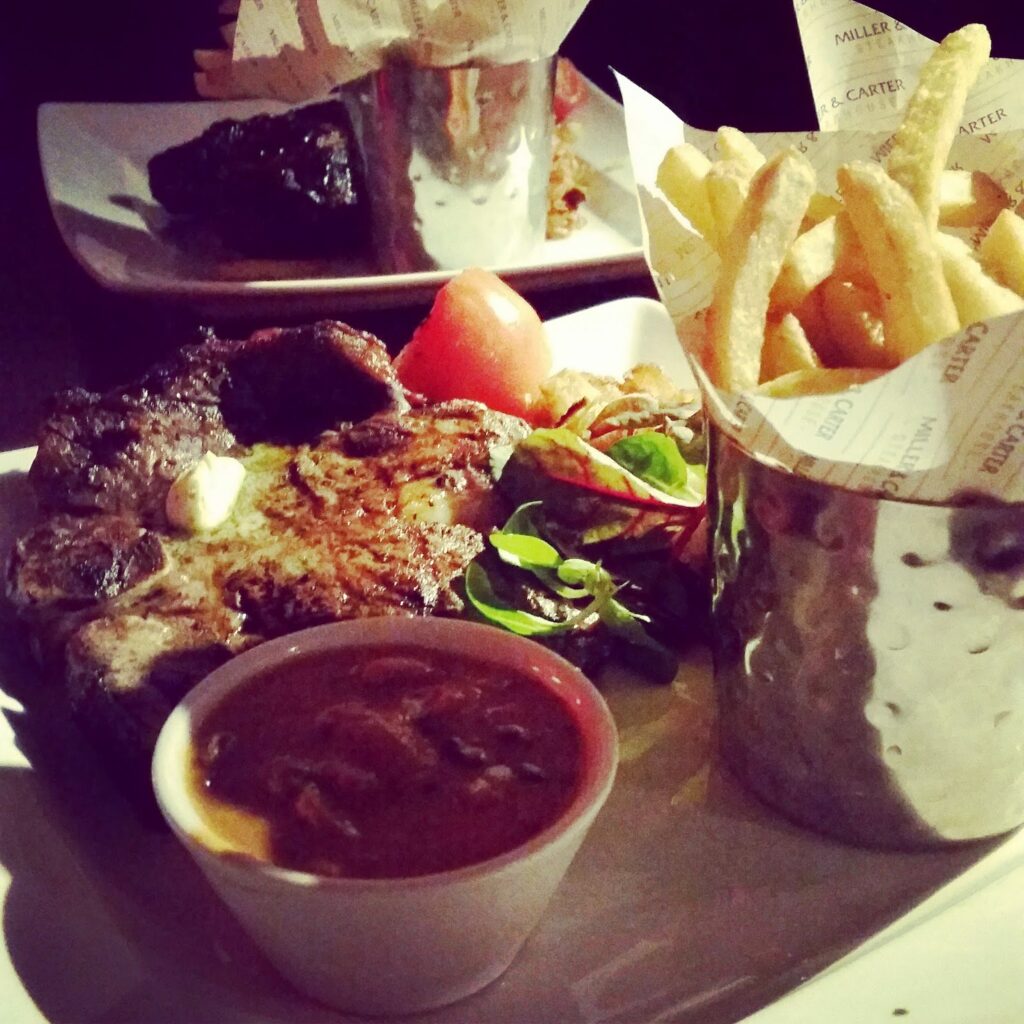 I visited Miller and Carter restaurant which is located in the Mailbox, Birmingham, one evening a few weeks ago with my husband. As our table was booked beforehand, we arrived at the restaurant and were immediately shown to our table. The table was in a lovely spot, a booth type table which was dimly lit and very comfy!
We were greeted by a lovely waiter name Vedat, who gave us a warm welcome and asked if we would like to order any drinks. Our drinks arrived swiftly and we were given time to look at the food menu before placing our order. As I wasn't sure which steak to order, Vedat kindly helped me choose from the menu with his in depth steak knowledge, I was very impressed!
I ordered the following:
Starter – Baked Cheddar Mushrooms in a creamy garlic and cheddar sauce served with garlic bread.
Main – Ribeye on the bone Steak, a tender and succulent ribeye cut left on the bone for a richer flavour. My steak was served with parsley butter, seasoned fries, a slice of onion loaf and balsamic glazed beef tomato, along with a garlic mayonnaise and parmesan lettuce wedge and creamy mushroom steak sauce.
Dessert – Silverpail Ice Cream and Cookie, I opted for 3 scoops of strawberry ice cream which came complete with a homemade cookie. You can also have a rich Belgian chocolate sauce.
My meal was delicious. The portion size sizes were just right, everything was extremely tasty and of great quality. You definitely get value for your money. My husband too thought the exact same.
I've visited Miller and Carter restaurants before and it is definitely one of my favourites. The staff are polite and professional, the restaurant is clean and well maintained, the atmosphere is lovely, food is great, what more could you ask for, a definite recommendation from me and I will be definitely be visiting again sometime soon.
This post is with Millenium and will be part of their Guide To Birmingham.
If you would like to contact me please click on the pink Icons above for my e-mail address, Instagram and Twitter accounts.

If you're a company who would like me to review your product or have any advertising queries, you can contact me by clicking on the pink e-mail Icon above or at:

[email protected]
If you want to use any of my photos for whatever reason then please e-mail me for permission first, @ Copyright 2011 Sadie.
Hello everyone, my name is Sadie, welcome to my Blog, enjoy xx

Popular Posts

Project 365/133 Wants of the Week


Project 365/124 Zara Black Leather Zip Bowling Bag

Project 365/25 Benefit Brows a-go-go Palette

Maxfactor False Lash Effect Fusion Mascara

Project 365/49 Studded Bottom Bag

Blog Archive
► 2015 (4)
► 2014 (8)
► 2013 (15)
► 2012 (37)
► 2011 (90)
► 2010 (22)
► 2009 (15)