Thursday, 16 April 2015
Frame Again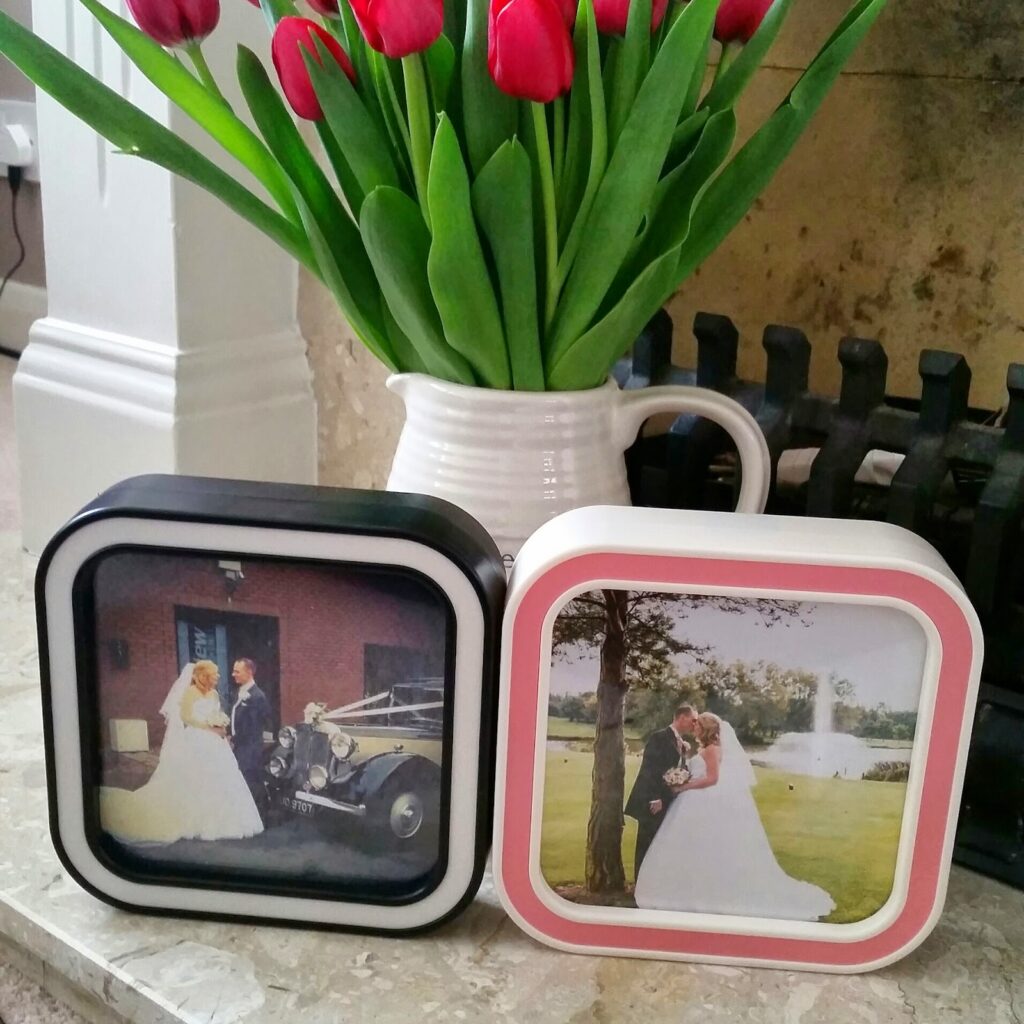 Hi everyone, I thought that I would share with you all my Frame Again frames which I received in the post yesterday.
For those of you who have never heard of Frame Again, it is an Independent company started by two Camden-based entrepreneurs Jake Hayman and Joe Kenyon. Jake and Joe appeared on Dragons Den last year but turned down a "never before seen offer" and decided to go it alone with the help of funding from the online community.
The Frame Again website is extremely easy to use, you simply upload your chosen photograph from your phone or computer then choose a customisable frame – you choose the colour of the base and the ring to complement your photo, your style and your location.
I chose two of our wedding photographs, one by our photographer which was saved on my desktop and another from a guest at our wedding who took the picture simply from his smartphone. As you can see from the picture above both of the photographs are of fantastic quality and are professionally printed on high quality paper. The photographs are 5.5 x 5.5 (14 x 14cm), which I feel are the perfect size.
The one thing I like best about the frames are the magnets. There are no clips, cardboard, or metal bits sticking out from the back of the frame, instead the frames are held shut by powerful magnets. My frames happily stick side-by-side or even back to back and I plan to put mine on my desk at home.
The frames look fabulous in pairs and I plan on purchasing another one or two to make these into a strip, simple yet effective. There is also a nook at the back of the frame to fit a picture hook in if you wish to hang these on the wall.
The frames look lovely in the home, in the workplace on your desk and would make a lovely but thoughtful gift for family or friends.
You can buy the frames from www.frameagain.com. Their customer service team are super friendly and the delivery was extremely speedy. A definite recommendation from me.
If you would like to contact me please click on the pink Icons above for my e-mail address, Instagram and Twitter accounts.

If you're a company who would like me to review your product or have any advertising queries, you can contact me by clicking on the pink e-mail Icon above or at:

[email protected]
If you want to use any of my photos for whatever reason then please e-mail me for permission first, @ Copyright 2011 Sadie.
Hello everyone, my name is Sadie, welcome to my Blog, enjoy xx

Popular Posts

Project 365/133 Wants of the Week


Project 365/124 Zara Black Leather Zip Bowling Bag

Project 365/25 Benefit Brows a-go-go Palette

Maxfactor False Lash Effect Fusion Mascara

Project 365/49 Studded Bottom Bag

Blog Archive
► 2015 (4)
► 2014 (8)
► 2013 (15)
► 2012 (37)
► 2011 (90)
► 2010 (22)
► 2009 (15)