Saturday, 9 May 2015
My Top 5 Summer Beauty Essentials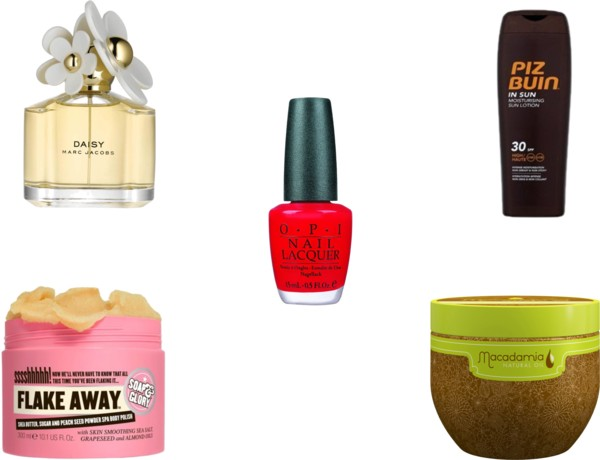 1) Marc Jacobs Daisy Perfume – With it's fresh and floral scent this is sunshine in a bottle. Light yet long lasting this is my perfect summer scent.
2) OPI Big Apple Red Nail Polish – OPI is my favourite nail polish brand and big red apple doesn't fail to disappoint. A truly classic red shade which gives a fabulous shine and looks great on both finger and toe nails.
3) Piz Buin Moisturising Sun Lotion – As we all know as much as we love the sunshine protecting our skin against the sun's harmful rays is a must do. The Piz Buin moisturising sun lotion is perfect protection against the sun, it's non-sticky and non-greasy formula intensely moisturises your skin leaving it feeling smooth, soft and silky all day long.
4) Soap and Glory Flake Away – This is the perfect exfoliator to get your body in tip top condition and ready to reveal those pins. I love that the scrub is really gritty and exfoliates my skin amazingly well. This leaves my skin feeling silky smooth, soft and well moisturised.
5) Macadamia Natural Oil Deep Repair Masque – This is a revitalising hair reconstructor for dry, damaged hair and which is also a natural UV protection. With a combination of macadamia oil and organ oil along with tea tree oil, chamomile oil, aloe and algae extracts rejuvenate and rebuild the hair, leaving the hair deeply nourished for improved elasticity and shine with long lasting conditioning benefits.
If you would like to contact me please click on the pink Icons above for my e-mail address, Instagram and Twitter accounts.

If you're a company who would like me to review your product or have any advertising queries, you can contact me by clicking on the pink e-mail Icon above or at:

[email protected]
If you want to use any of my photos for whatever reason then please e-mail me for permission first, @ Copyright 2011 Sadie.
Hello everyone, my name is Sadie, welcome to my Blog, enjoy xx

Popular Posts

Project 365/133 Wants of the Week


Project 365/124 Zara Black Leather Zip Bowling Bag

Project 365/25 Benefit Brows a-go-go Palette

Maxfactor False Lash Effect Fusion Mascara

Project 365/49 Studded Bottom Bag

Blog Archive
► 2015 (4)
► 2014 (8)
► 2013 (15)
► 2012 (37)
► 2011 (90)
► 2010 (22)
► 2009 (15)